FINANCE
INFORMATION BULLETIN – June 2018
Final Tax Notices have been mailed to all residential/farm property owners. Multi-Residential, Commercial and Industrial tax bills will be mailed out in July. For Residential, Farm, Managed Forests and Pipeline property classes, the final tax levy is split into two installments, being due July 31, 2018 and September 28, 2018. For Multi-Residential, Commercial and Industrial properties, the final tax levy is split into two installments, being due August 31, 2018 and October 31, 2018.
By-law No. 2018-22 was passed by Council on May 15, 2018 to adopt all 2018 Rates.
The Township of McNab/Braeside is the 4th highest contributor to the Renfrew County levy in 2018. The Township will submit payment for the County levy in the amount of $3,316,360 in 2018.
For every dollar the Township collects in residential taxes, the Township retains 51 cents, the Schools receive 16 cents and the County receives 33 cents. In 2018, the Township Tax rate was the 7th lowest in Renfrew County.
2018 PROPERTY TAX RATES
(Click the link above for rates)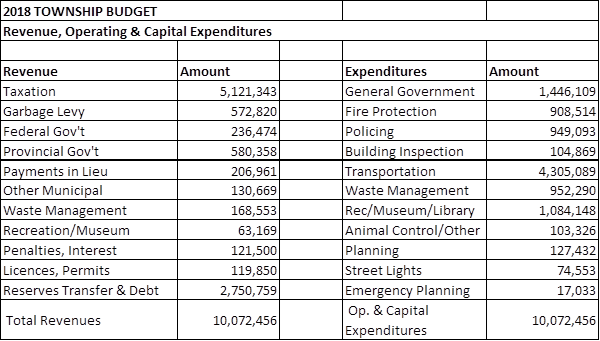 Tax Relief for Low Income Seniors/Disabled
The County of Renfrew sets policy on tax relief for low income seniors or the disabled. This policy is currently set out in their by-law # 35-12 (http://www.countyofrenfrew.on.ca/county-council/by-laws/35-12/). This by-law establishes that tax increases for this group be deferred until the eligible property is sold, at which time any deferred amounts together with accumulated interest thereon shall become a debt payable. Deferred taxes shall be considered a special tax lien on the property in accordance with s. 319 (14) and 349 of the Municipal Act. To apply to this program, a copy of the application form and proof of eligibility should be submitted to the Treasurer no later than August 31st of the applicable property tax year.
2018 Tax Rate Comparison Chart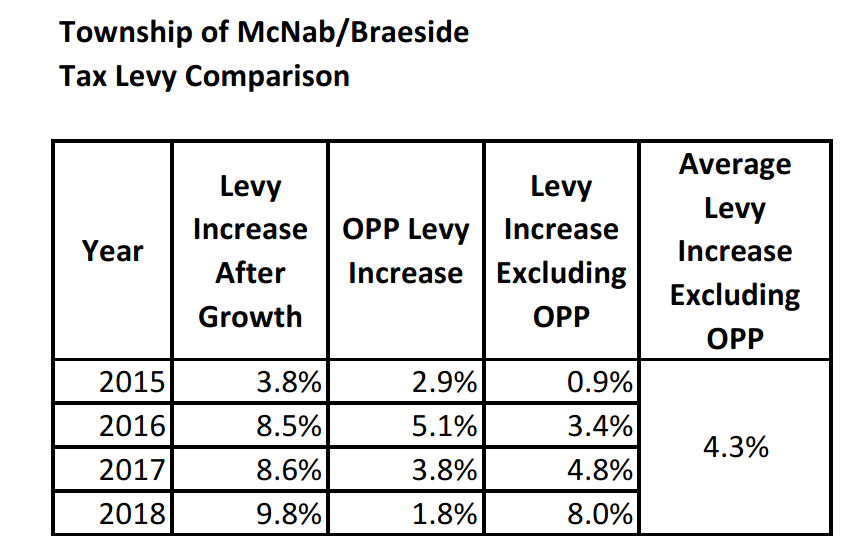 Tax Information
The Township mails two tax bills each year. The first tax bill is the interim tax bill with one instalment due at the end of March. The Interim Tax Bill is calculated at 50% of the previous year's total Taxes Levied. The Final Tax Bill is calculated using the current market value assessment times the tax rates less the interim bill amount, and the balance is divided into two instalments due at the end of July and September.
Collection of Taxes
A PENALTY OF 1¼% per month will be added to any outstanding amount on the 1st day of each month until paid. Failure to receive a Tax Bill does not relieve the Taxpayer from payment of Taxes or Penalty. If a property has changed ownership, please return the Tax Bill to the Township Office.