A MESSAGE FROM MAYOR TOM PECKETT
Mayor's Message
A Look Back to 2016, 2017 and what is happening in 2018
Since the last municipal election — when the current council ran on a platform to move the township forward and invest back into the community and its residents — considerable progress has been made toward achieving this goal.
On the building front
Underpinning our achievements is the investment that has been made in upgrading/replacing aging — and in some instances, crumbling — buildings.
In 2016, a new salt and sand shed in Braeside was built to replace a structure that had been virtually condemned by Stantec. At the same time, we built a 3-bay public works garage in the village to address a critical gap.
Work continued in 2017, with the razing of the Braeside recreation centre and a new facility is now under construction.
In White Lake, we installed new rink boards at the community rink and made substantial improvements to the canteen building. A final coat of new paint will complete this work, once warmer weather arrives.
In the centre of our township, renovation work to the Perneel building is under way, and construction of a new municipal building will begin this spring.
On the roads front
In terms of road infrastructure, many roads and culverts have been paved and replaced. In keeping with our 10-year roads plan, more roadwork will be tackled this year.
Future development
Currently, five housing developments are in the works. The anticipated 150 new homes will help to spread the tax base.
On the recreation front
When it comes to recreation, a new diamond was added to McNab Centre Park and I am pleased to inform you that our township will be hosting a provincial championship tournament this year. Not to be outdone, our soccer facility on Duncan Drive has been touted as one of the best in the area.
As we continue to beef up our infrastructure, we are also looking at developing new recreational opportunities. A growing Herbfest is proving to be a signature annual event in the township, and we are looking at ways to attract residents and visitors to our parks and other recreational amenities. A new trail that is being developed at Clay Bank Park will serve to highlight native plant species and give walkers a new avenue for enjoying nature. Regular snowshoe outings are taking place in Alexander Stewart Provincial Park — a provincial park located in our township — and plans are under way to promote the use of the trails there for all four seasons.
We have a wealth of natural and recreational assets in our township, and the 150 relay held in June 2017 to celebrate Canada's sesquicentennial served to highlight these assets in a unique and fun way — as well as unite residents of all ages across our township.
I would be remiss if I didn't thank our Volunteer Fire Department who not only protect our property and lives but take an active role in promoting McNab/Braeside.
Your council would not have been able to accomplish any of these projects — and countless more not mentioned here — without the cooperation of our staff, our volunteer fire department (whose members take an active role in promoting the township), our many volunteers and, most important of all, our residents.
Mayor Tom Peckett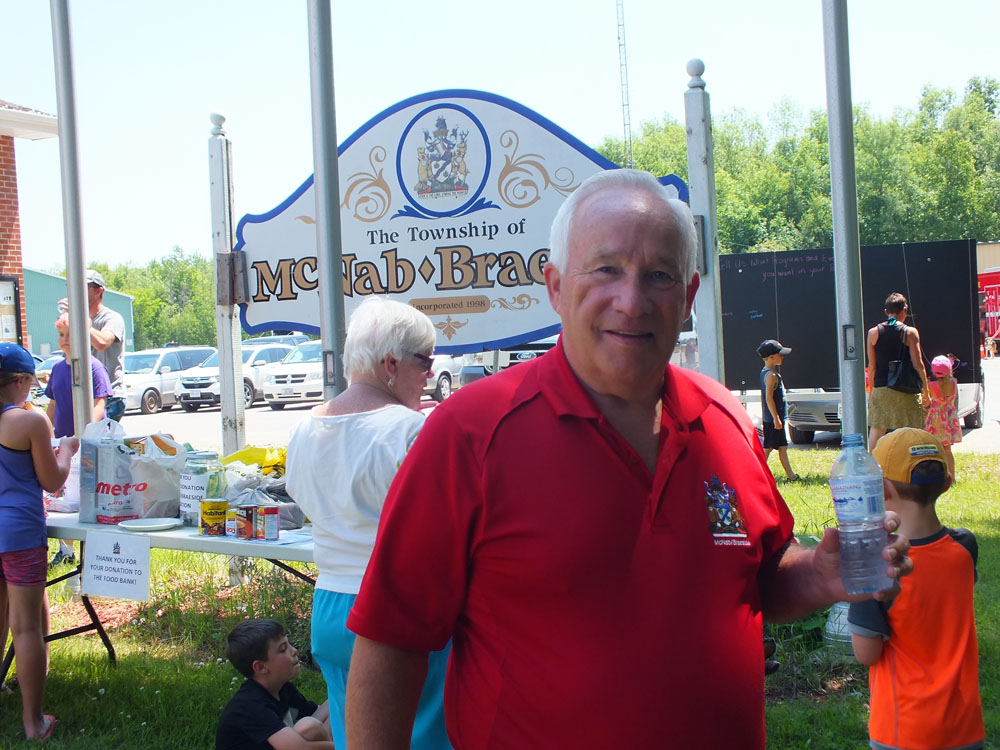 Above photo taken by Jim Hutchison