SNOWSHOEING...IN JUNE?!?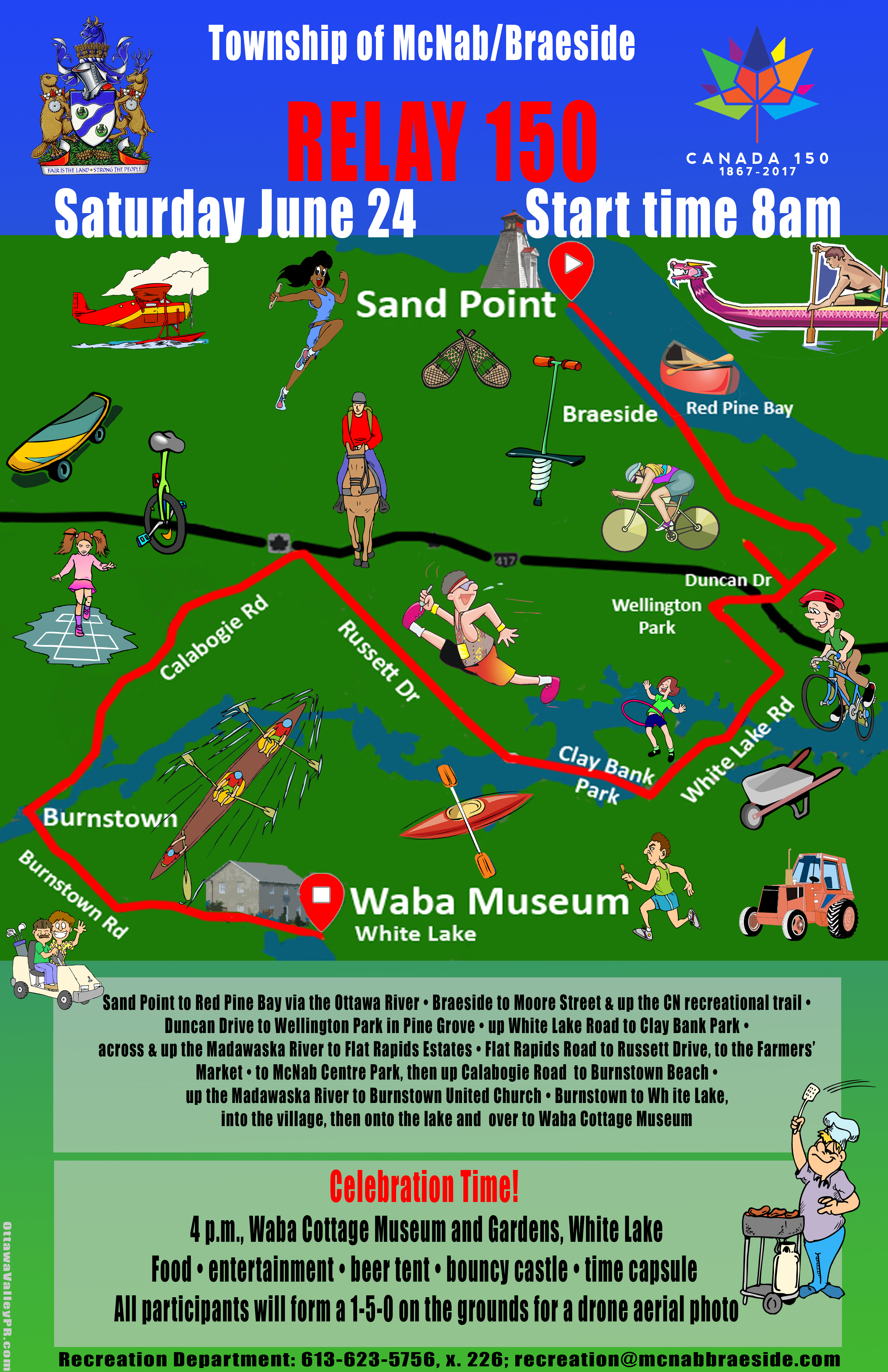 McNab • Braeside 150 Relay
Going for the Guinness
not the ale, but the record
Take part in a unique relay across the township and help us celebrate Canada's 150th anniversary!
It's all happening on June 24, starting at the Sand Point wharf at 8 a.m. We're looking for people of all ages and abilities to participate — and provide a cheering section of course!
Here's how the relay works:
Participants will carry the baton — carved by Dub Juby, the Valley Carver! — using a mode of transportation of their choosing (skateboard, wheelbarrow, tricycle, bicycle, kayak, canoe, scooter, motorcycle — the sky really is the limit!). We're looking for as many modes of transportation as possible, for our application to the Guinness Book of Records organization.
The route:
Sand Point to Red Pine Bay
Red Pine Bay into village of Braeside
Braeside to Dochart Soccer Field, via the CN Recreation Trail at Division Street (boundary between Arnprior and the Township)
Dochart Soccer Field up Duncan Drive and over the Pine Grove overpass to Wellington Park in Pine Grove
Wellington Park to White Lake Road and to Clay Bank Park
Clay Bank Park boat launch to Flat Rapids Road, to Farmer's Market building on Russett Drive
Russett Drive to McNab Centre Park on Calabogie Road
McNab Centre Park to Burnstown Beach, to old beach by the United Church, and into village of Burnstown
Burnstown to the village of White Lake, to park/beach, then over to the boat launch at Waba Cottage Museum
Finale: Waba Cottage Museum, 5 p.m. — there'll be entertainment, food, children's activities, a beer tent and the unveiling of a time capsule.
We need:
Participants
Lots of volunteers
Sign up now and help us Go for the Guinness!
More information: Contact Karla Blemkie, Recreation Department: 613-623-5756, x. 226; recreation@mcnabbraeside.com.